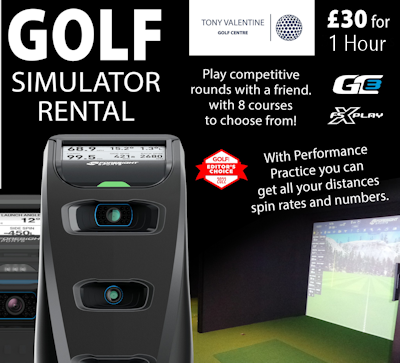 We are now offering a golf simulator rental service.
Engage in performance practice
- Ball data collected: Ball speed | Launch angle | Side angle | Total spin / Backspin | Spin axis / Side spin
- Club data collected: Club speed | Efficiency | Angle of attack | Club path
- Play competitive rounds on your own or with a friend.
- Gameplay as real as it gets! - With the FSX play software.
- 8 courses to choose from. In glorious, true to life 3D graphics with the unity engine.
- Powered by the Foresight Sports GC3 launch monitor.
- £30 for 1 hour. Max 2 people per bay*
Call for availability
Corsham: 01249 714466 or Swindon: 01793 644448
*We can accomodate 2x Right Handers or 2x Left Handers. We cannot mix dexterity per session.
Foresight Sports GC3 Launch Monitor
The Foresight Sports GC3 golf launch monitor delivers uncompromising accuracy and performance both outdoors and indoors, providing the same true-to-life simulation experience synonymous only with Foresight.